What up, God?
Nov 16
[video]
Sep 12
On priests, laughter and angels…
Important exposition: I am currently working on an interim basis for a church.
Last week, I was in desperate need of a priest. I was experiencing what one might call "church deadline crunch time." I needed an important piece of information (it could have been about the altar flowers but I do not recall at this time).
So I scurried down the hallway and heard priestly chatter wafting from beneath an office door.
"Knock, knock."
The door opened.
"Yes?" three priests asked in unison.
I looked towards them and said, "I heard voices."
"Bob: you shouldn't be telling us those things," said one priest then all three laughed.
The priests gave me the important piece of information, I met my deadline then I dialed my former assistant (from a job I had at another church).
I asked her about the laughter sound coming from the priests.
"Every time you make a priest laugh," she explained, "an angel gets wings."
Hmm… Does that mean three angels got wings? If so, I had a very productive day. Amen.
Aug 30
Tell Michele that God didn't send Irene because the government is spending too much money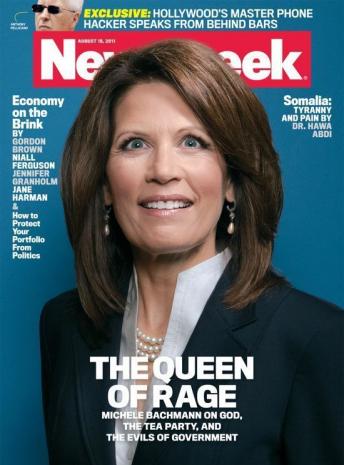 Just when you thought Michele Bachmann was driving the crazy train at full speed, she takes it up a notch. This time, she's blaming Hurricane Irene on government spending. 

At the very moment that the hurricane was pummeling the east coast and wreaking havoc upon the lives of tens of millions of Americans, Michele Bachmann was putting forth some cockamamie theory that ties it to a vengeful God, irked by fiscal imprudence. 

Struck by a quick backlash, the Bachmann campaign tried to walk things back, claiming the remark was simply in jest. Even if you believe that, however, is that supposed to be better? Joking about a national disaster as tragedy is unfolding and people are fleeing for their lives? 

Michele Bachmann is either profoundly crazy, profoundly insensitive, or both. But one thing is for sure: Bachmann needs to apologize for this statement. 

For too long, she's been spouting this kind of dangerous nonsense. It's time to stop giving her a free pass. I just signed a petition calling on Michele Bachmann to apologize. You should sign it, too. Click below to take action. 

http://act.credoaction.com/campaign/bachmann_irene/?r_by=-4300313-mqE93Ix&rc=paste2 
May 11
America's "New" Survival Job
A month or so ago I learned that a very talented, good-looking friend of mine entered the oldest profession in the world in order to eat, pay rent and afford clothing. Call it the "new" survival job of the Great Recession.
When I learned this, I became very sad. Not because my friend resorted to prostitution but because, in a country where Wall Street criminals are rewarded with tax-payer funded million dollar bonuses and Nobel Peace Prize winning presidents conveniently forget their campaign promises, I finally came to the realization why America is called "the land of opportunity."
Opportunity can pay handsome hourly dividends. Opportunities, however, do not usually come with benefits. Prostitutes do not have sick days, vacation days, health insurance and certainly not collective bargaining rights. The only real perk (if you consider it a perk) is the occasional happy ending.
I have known others who have offered up some nookie for cash. In the late nineties, while I was in graduate school in Maryland, I rented a room in the home of a middle class couple that, to help make ends meet, started an escort service. Their relationship didn't last but at least they met their mortgage payments.
The most fascinating prostitute that I have met, however, was in New York City, during my tenure as director of communications at St. Bartholomew's Church.
The strumpet extended an invitation to me, via a gentleman caller of mine, to dine with her at Orsay on the Upper East Side. I had heard many stories about this scarlet woman but had never met her. How could I resist?
This particular working girl was retired because she "fell in love" with an elderly heirless john and married him. The fickle finger of fate, however, had other plans for their bliss: death knocked on the filthy rich old man's door.
While dining with the tart, our conversation became diverted towards political nonsense. During her youth, this woman of ill repute was a staunch Democrat and engaged in silly, old school Democratic activities: helping those less fortunate than she, fighting for noble causes, antagonizing the wealthy, etc.
After coming into money (so to speak) she changed her political affiliation. I was rather horrified to learn that she had become a proud, card-carrying member of the Republican Party. That does not mean, however, that I was rendered speechless.
I promptly looked at her and said, "So, 'ho, when did you become a Republican?"
She replied, "When I became a millionaire."
Opportunity knocked, the harlot answered. Who wouldn't?
Opportunity continues to knock in America—it knocked loudly during the Presidential election of 2008. An African-American man, with roots in community organizing and promises to help get America out of the mess the millionaire Republicans got us into, answered opportunity's calling.
Did this Presidential candidate have a choice? Of course he didn't. Only a fool would choose to say "no" and Obama ain't no fool. In fact, he's a multi-millionaire (with vacation days, an awesome health plan and lots of perks). And I believe his campaign's #1 funder was Goldman Sachs.
My talented, good-looking friend, however, is still struggling to get by. I hope opportunity knocks for my friend. I hope, with his "new" American survival job, he will be lucky enough to become a millionaire so he, just like Obama, will be living the American dream—as a whore.
Apr 20
Call to worship!
What happens when you call 1-800-Worship? Well.. you ain't gonna reach a hotline about church service, that's for certain!
More info is at The Huffington Post. Click here to read all about it — or give the number a ring!
Dec 11
[video]
Dec 02
"Religion is far more of a choice than homosexuality. And the protections that we have for religion — we protect religion… It's a travesty that people have forced someone who is gay to have to make their case that they deserve the same basic rights as someone else." — Jon Stewart (via gaywrites)
(Source: gaywrites, via projectqueer)
What would Jesus do?
And what has our country come to? Those darned Republicans are at it again. This time, they are refusing to help needy children. So many of them say that they are Christians. Is this what Jesus would do?  Click here to read all about it.
Nov 28
[video]
Oct 04
The Mormons are at it again!
After all the media coverage of young Gay people committing suicides, Boyd K. Packer, the second-highest Mormon leader, gave a sermon on Sunday and said same-sex attraction is "impure and unnatural" and can be overcome, and that same-sex unions are morally wrong and "against God's law and nature."
You would think that the Mormons would just stop already. If you have the time, HRC has started a letter campaign to let Packer know how appalled some of us are. If this bothers you, click here and sign: https://secure3.convio.net/hrc/site/Advocacy?cmd=display&page=UserAction&id=945
Sep 30
Scary Christian of the Month
Delaware Senate candidate Christine O'Donnell has said that "God is guiding her campaign." Read about it here: http://www.huffingtonpost.com/2010/09/30/christine-odonnell-on-god_n_744658.html
Here are some of her scary "Christian" quotes, with thanks to the Huffington Post:
It is not enough to be abstinent with other people, you also have to be be abstinent alone. The Bible says that lust in your heart is committing adultery, so you can't masturbate without lust.

We took the Bible and prayer out of public schools. Now we're having weekly shootings. We had the 60s sexual revolution, and now people are dying of AIDS.

God may choose to heal someone from cancer, yet that person still has a great deal of medical bills. The outstanding bills do not determine whether or not the patient has been healed by God.

I dabbled into witchcraft. I never joined a coven." / "One of my first dates with a witch was on a satanic altar.

You know what, evolution is a myth." / "Why aren't monkeys still evolving into humans?

During the primary, I heard the audible voice of God. He said, 'Credibility.'

Sep 29
[video]
Sep 23
Bigotry: Aisle 7!
Sep 19
[video]